Denki's Award-Winning
Word Game
Where words (11 points)
speak louder than actions (8 points)
"Our aim was to design a digital board game – a new experience that worked just as well as either a physical board game or a digital video game."
Quarrel is a war with words...
What's the best word you can make from the letters:
A-L-H-G-N-U-I-G?
If you said "laughing", then you'll be a dangerously good player of Quarrel. If you said "hug", well… never fear, you might still be dangerously good too!
The essence of the game is making high-scoring words, but what's the use of making high scoring words if they don't help you dominate an island? As luck would have it, that's exactly what you do in Quarrel: lead your troops to vocabulary victory!
Quarrel uses a dictionary provided by the legendary word-wizards at HarperCollins to ensure only "real" words are good enough, and also to let you know what those words mean. That way you need never come up with a dodgy explanation for the words you guessed at in a blind panic (such as "voe" or "za").
TITLE
QUARREL
PLATFORM
XBOX 360 Live Arcade
PUBLISHER
UTV IGNITION GAMES
YEAR
2012
"Quarrel is just a lovely, skillfully-crafted joy"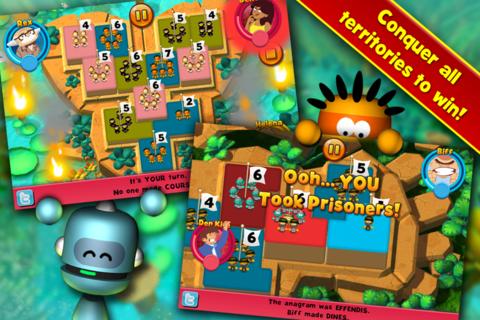 TITLE
QUARREL DELUXE
PLATFORM
iOS APP STORE
PUBLISHER
UTV IGNITION GAMES
YEAR
2012
Did we mention Quarrel won a few awards?
BEST GAME 2011
BAFTA SCOTLAND
BEST SERIOUS GAME 2012
THE INDEPENDENT GAME DEVELOPER AWARDS
BEST SOCIAL GAME 2012
THE INDEPENDENT GAME DEVELOPER AWARDS